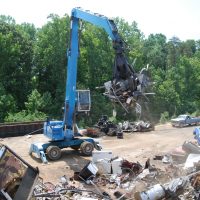 (Danville, Va.) – A worker escaped serious injury after a propane tank exploded at AMA Metal and Auto Recycling on the Halifax Road.
According to the Danville Fire Department, the tank was under a pile of debris and ruptured after it was punctured by a mechanical claw used to move piles of heavy metal. The equipment operator jumped to safety and suffered only minor injuries. He was back on the job later in the day.
The tank exploded but employees of the recycling yard had the fire out by the time Danville firefighters reached the scene.
The accident happened about 8:45 Wednesday morning. The business buys and sells junked cars and scrap metal.