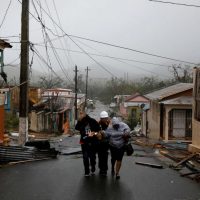 (SAN JUAN, Puerto Rico) (AP) — The U.S. National Hurricane Center says Maria has regained its major hurricane status, rising to a Category 3 storm early Thursday.
An update from the Miami-based center says maximum sustained winds have increased to near 115 mph (185 kph) with higher gusts.
Maria's fierce core was centered about 55 miles northeast of Punta Cana, Dominican Republic. It will continue to move away from Puerto Rico during the next several hours, and then pass offshore of the northeastern coast of the Dominican Republic early Thursday. Maria should then move near the Turks and Caicos Islands and the southeastern Bahamas tonight and Friday.
President Donald Trump has declared a major disaster in the U.S. Virgin Islands after Hurricane Maria hit. Trump's action early Thursday makes federal funding available to people on the island of St. Croix.
Puerto Rico's energy grid took such a severe blow from deadly hurricane and Gov. Ricardo Rosselló said restoring power could take months.
The entire system is down, the governor said. No one on the island has power from utilities.