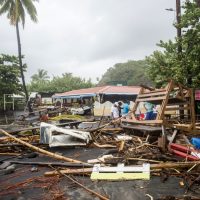 (SAN JUAN, Puerto Rico) (AP) — Puerto Rico faces what officials say could be the strongest hurricane to ever hit the U.S. territory as they warned it would decimate the power company's crumbling infrastructure and force the government to rebuild dozens of communities.
Maria barreled toward the island with 175 mph winds and forecasters said it was expected to make landfall Wednesday midmorning along Puerto Rico's southeast coast as a Category 5 storm, punishing the island with life-threatening winds for 12 to 24 hours.
The number of power outages spiked as Maria approached, with the storm centered early Wednesday about 70 miles (115 kilometers) southeast of San Juan, Puerto Rico, and moving northwest at 10 mph (17 kph).