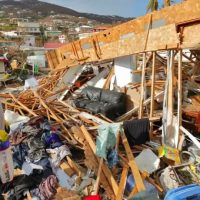 (Roseau, Dominica) (AP) — Hurricane Maria is sweeping over the small island of Dominica with catastrophic Category 5 winds, starting a charge into the eastern Caribbean that threatens islands already devastated by Hurricane Irma and holds the possibility of a direct hit on Puerto Rico. Fierce winds and driving rain have lashed mountainous Dominica for hours, causing flooding and tearing roofs from homes.
In a harrowing series of Facebook posts, the island's prime minister described being rescued at his damaged home.
Dangerous storm surges, destructive waves, flash floods and mudslides also threaten the Leeward Islands – the island group that includes Martinique, Puerto Rico and the US and British Virgin islands.
The storm is moving along roughly the same path as Hurricane Irma, which devastated several islands and parts of Florida earlier this month.