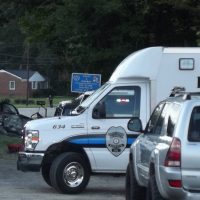 (Danville, Va.) – Danville Police have identified the person killed in a two-car crash on the Mount Cross Road Wednesday afternoon as Kelly Michelle Ferguson, 46, of Pittsylvania County.
Ferguson was a passenger in a 2006 Lincoln traveling southbound into the city limits. The car left the roadway briefly, before traveling back onto Mount Cross and turning broadside into the path of a northbound 1996 Jeep.
The Jeep struck the Lincoln on the passenger side and Ferguson died at the scene.
The driver of the Lincoln was airlifted to Roanoke Carillon, while the operator of the Jeep was transported to Duke Medical Center. A passenger in the Jeep was treated and released at SOVAH-Health Danville.
Police, fire and rescue units responded and cut two victims from the wreckage. The accident happened about 4:45 p.m. and blocked traffic in both directions for several hours.
Virginia State Police assisted at the scene.