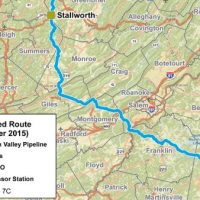 (Franklin County, Va.) – A Virginia judge has given developers the go ahead to survey land for the proposed Mountain Valley Pipeline, over the objections of a Franklin County landowner.
The two sides squared off in court Monday, with the court granting an injunction that will allow the surveys to proceed.
Carolyn Reilly has called police repeatedly to keep the surveyors off her property and told the judge the workmen refuse to identify themselves or the company they are working for.
Reilly and 50 other Virginia landowners have filed a federal lawsuit challenging the pipeline. They say granting eminent domain for the pipeline's construction violates their Constitutional rights.