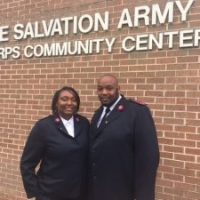 (Danville, Va.) — A team from the Danville Salvation Army is headed to Florida and Georgia to provide food and water to the victims of Hurricane Irma.
Captain Ray Jackson heads the Danville Salvation Army and will coordinate the mobile feeding units and field kitchens in Macon, Georgia. Jackson says the plan is to set up a base of operations in Georgia, although that could change before his group leaves Tuesday night.
A team of Salvation Army personnel from Virginia and Washington, D.C. will be on the ground for the next two weeks, getting food and water to those who have no electricity, or who lost their homes to the storm.
This isn't his first response to a major disaster. Jackson also helped out when Hurricane Katrina came ashore, wrecking havoc in New Orleans in August 2005.
While he will be in the area for 14 days, Jackson says he expects the Salvation Army to remain on the ground much longer.
Jackson said there are "so many right now who just need a cup of water and I'm happy to be able to help them out with something as simple as that."