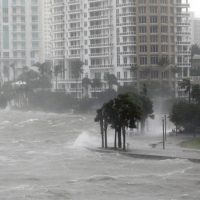 (St. Petersburg, Fla.) (AP)  — The National Hurricane Center says a slightly weakened but still powerful Irma is slamming Naples and Marco Island with its strongest winds. Irma's winds have dropped to 120 mph, down from 130 mph, and forecasters say it should weaken a bit more before landfall. The now Category 3 hurricane is expected to batter all of South Florida with wind and surging water.
Miami City Manager Daniel Alfonso says a second tower crane has collapsed into a building under construction in the city's downtown area. Alfonso told The Associated Press that the crane collapsed in a large development with multiple towers being built by Grand Paraiso.
Another crane collapsed earlier Sunday onto a high-rise building that's under construction in a bayfront area filled with hotels and high-rise condo and office buildings, near AmericanAirlines Arena. No injuries have been reported.
High winds are impeding Miami authorities' ability to reach the cranes, and authorities are urging people to avoid the areas.
Alfonso says the approximately two-dozen other cranes in the city are still upright and built to withstand significant wind gusts.
The tower cranes working on construction sites throughout the city were a concern ahead of Irma. Moving the massive equipment, weighing up to 30,000, is a slow process that would have taken about two weeks, according to city officials.
Meanwhile, an apparent tornado spun off by Hurricane Irma has destroyed six mobile homes in Florida. Palm Bay police say no one was injured, but that a 93-year-old man refused to leave his damaged home. Palm Bay is on Florida's central Atlantic Coast near the Kennedy Space Center. The eye of Irma was hundreds of miles away when the tornado struck.
Florida Power & Light says it will be weeks, not days, before electricity is fully restored because of the damage being done by Hurricane Irma. Spokesman Rob Gould said Sunday that an estimated 3.4 million homes and businesses will lose power once the worst of Irma reaches the Florida mainland.