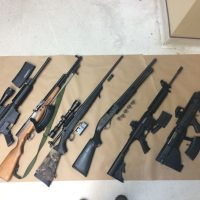 (Danville, Va.) — Danville Police and Pittsylvania County Sheriff's deputies seized a cache of firearms during a raid on a house in the 900 block on Martinsville Highway Thursday.
A suspect has been identified and police say charges are pending.
Authorities confiscated four high capacity, semi-automatic rifles, a pump shotgun, and a bolt action rifle.
The suspect's name was not released.