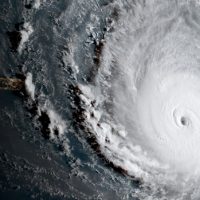 (ST. JOHN'S, Antigua) (AP) — The most powerful Atlantic Ocean hurricane in recorded history has made its first landfall in the islands of the northeast Caribbean.
The National Weather Service said the eye of Hurricane Irma passed over Barbuda around 1:47 a.m. Residents said over local radio that phone lines went down as the eye passed.
The National Hurricane Center said Irma was maintaining Category 5 strength with sustained winds near 185 mph and heading west-northwest on a path toward Puerto Rico, the Dominican Republic, Haiti and Cuba before possibly heading for Florida over the weekend.
Concern centered particularly on the Florida Keys, a chain of islands at the southern tip of the state that is a tourist hot spot and home to more than 80,000 residents. It is in the direct path of the storm as currently forecast, leading local officials there to announce that the area would be under mandatory evacuation orders beginning Wednesday.