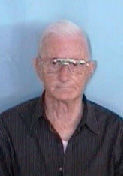 (Caswell County, N.C.) – A body has been found in a Caswell County field and authorities are trying to determine if the remains are those of a missing 84-year-old Burlington man.
The Winston-Salem Journal reports that police have found evidence that a couple charged in a Virginia shooting may have been taken the man's vehicle.
Family members reported Harold Dean Simpson missing Aug. 19.  His Chevrolet Cobalt was found abandoned in Nelson County on Monday, near the scene of a shooting that seriously injured a 60-year-old woman.
After the shooting, 42-year-old Sean D. Castorina, and Penny M. Dawson, 40, both of Burlington, fled the scene in a Dodge Dakota taken from the home.
State Police said items found in the abandoned Cobalt link Castorina and Dawson to the car.
The pair was arrested Thursday at a gas station in Fergus Falls, Minn., without incident. Both will be returned to Virginia, where they face charges of malicious wounding, use of a firearm and grand larceny of a vehicle.