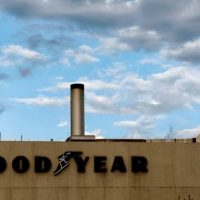 (Danville, Va.) – Workers in Danville and four other Goodyear plants have overwhelmingly approved a new, five-year contract.
Goodyear and the union announced ratification of the master contract on Thursday. It includes 7,000 workers at five plants, including about 2,000 in Danville.
A union spokesman said the agreement includes an across-the-board salary increase for workers, lessens the difference between wage tiers, and protects the five plants from closing during the life of the contract. All workers covered by the agreement will receive a 40 cents an hour wage increase, which goes into effect Saturday. There will be further wage increases over the next four years, with the amounts based on each individual's job and tier. The cost-of-living structure that has been in place since the 1970s also will remain intact.
The five plants will have protected status through the five-year contract period.
Goodyear and the union began negotiating for a new labor agreement in Cincinnati in June, and a tentative agreement was reached on July 29.
The new agreement is valid through July 29, 2022.