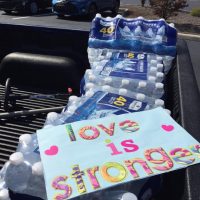 (Danville, Va.) — God's Pit Crew is gearing up to help hurricane victims in Texas.
The Danville-based volunteer organization is in stand-by mode, pending the imminent arrival of Hurricane Harvey.
Crew Chief Randy Johnson has been on the phone to areas in the projected path of the storm and is preparing equipment, trucks, "Blessing Buckets" and other relief supplies to be ready to respond immediately.
More counties along the Texas Gulf coast are ordering mandatory evacuations as Hurricane Harvey becomes a growing menace to the area.
Nueces County officials have ordered evacuations of all low-lying areas, including Padre Island, Flour Bluff and North Beach.
Nearby up the coast, officials in low-lying Refugio (re-FYOO'-ree-yoh) have ordered its 7,500 residents to move inland, and officials in Jackson County have done likewise with its 15,000 residents.