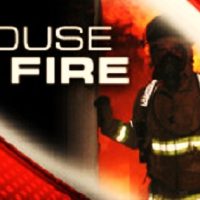 (Axton, Va.) — Fire destroyed a Henry County home Wednesday.
Almost 50 firefighters from six departments responded to the fire on Country Place Road in Axton.
The flames were spotted by a passerby just before noon. The owners and their pet dog were not home at the time.
Heavy smoke was visible from the carport and the fire spread quickly through the single-story, brick home. The nearest hydrant was more than a mile away, so firefighters had to shuttle water to the scene.
The home was gutted and two cars were destroyed. No one was injured but a firefighter was checked out at a local hospital.
A cause has not been determined. The family is being assisted by the American Red Cross.