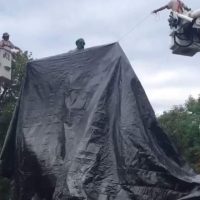 (Charlottesville, Va.) – Workers with cranes pulled black tarps over the massive statues of two Confederate generals Wednesday, in memory of the woman who was killed during a rally by white nationalists in the college town. Heather Heyer died on Aug. 12 after a white nationalist plowed into a crowd with his car.
A small crowd of onlookers cheered Wednesday as workers covered the statues of Robert E. Lee and Thomas "Stonewall" Jackson.
Charlottesville city council members voted unanimously to shroud the monuments during a contentious meeting earlier this week.
The council wants to remove the statues, but is prevented from doing so because of a pending lawsuit challenging the plan. So the council ordered them to be covered.