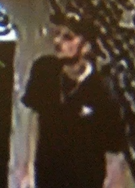 (Rockingham County, N.C.) – Two shoplifters struck a Rockingham County store clerk with their car as they were fleeing the store.
The Rockingham County Sheriff's Office said the incident happened at the Dollar General store in Reidsville last Wednesday afternoon. They are now trying to identify the pair through surveillance video.
The store manager tried to confront a man and a woman who were leaving the store without paying for merchandise.
The woman pushed the store manager out of the way and the two fled, jumping into a silver, four-door Saturn.
A 30-year-old store clerk attempted to get the license tag number and was hit when the driver backed into her as the pair fled. The clerk was treated for minor injuries at a local hospital and released.