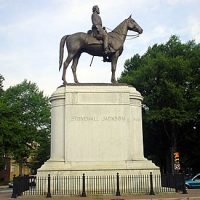 (Richmond, Va.) (AP) — A great-great-grandson of Thomas "Stonewall" Jackson said Thursday that the monument to the legendary Confederate general and others in Virginia's capital city were constructed as symbols of white supremacy and should be taken down.
Meanwhile, a descendant of Jefferson Davis said he supports moving the statues to appropriate settings, such as museums.
Jackson's great-great-grandson told The Associated Press that he used to be open to the idea that the statues on Richmond's famed Monument Avenue – which memorialize southern Civil War heroes, including Jackson – might be acceptable if context were added to explain why they were built.
However, Jack Christian said the racially charged violence in Charlottesville has shown that to be impossible.