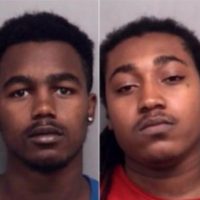 (Henry County, Va.) – A Henry County Sheriff's deputy was treated at a Martinsville hospital after he pulled up alongside a car in Fieldale and was sprayed in the face with a fire extinguisher.
The deputy is fine, but the group of young men responsible is behind bars. Four have been charged and a fifth is being sought in the assault and for a break-in at a local food pantry.
The entry was at Victory International Ministries. About $2,500 worth of food, computer electronics and several fire extinguishers were taken.
Zachery T. Conner, 20, of Bassett, Kaeylan A. Carter, 22, of Bassett, Christopher Harr, 19, of Martinsville, and Daveon M. Finney, of Bassett have been charged with three felonies and are being held in the Henry County Jail without bond.
Deputy J.M. Duffy was patrolling on River Road when he spotted a suspicious car and was sprayed in the face with the fire extinguisher. He managed to get the license plate number from the crashed car. Officers responded and arrested four of the five suspects.