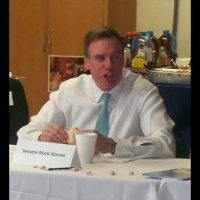 (Washington) — U.S. Sen. Mark R. Warner called into CNN's The Lead with Jake Tapper as he traveled across Virginia this week to respond to President Trump's comments on Charlottesville.
Warner accused the president of using a double standard, noting Trump "constantly challenged President Obama for not using the phrase Islamic terrorism," while failing to describe the violence in Charlottesville as "domestic terrorism."
Warner, a Democrat, said the values espoused by white supremacist and extremist groups that erupted in Charlottesville over the weekend do not reflect the Virginia values or those of the country.
In a testy exchange with reporters at Trump Tower, President Donald Trump said Tuesday that some people at a white nationalist rally in Virginia over the weekend were there to protest the removal of a statue of Robert E. Lee. He asked if statutes honoring George Washington and Thomas Jefferson would be next since both owned slaves.
And he reiterated his claim that both sides were to blame for the violence in Charlottesville, adding that "you had a group on one side that was bad… and you had a group on the other side that came charging in without a permit and they were very, very violent."
Warner comments came as he tours the state this week. The senator stops in Danville Wednesday afternoon at the Save-A-Lot on Piney Forest Road.