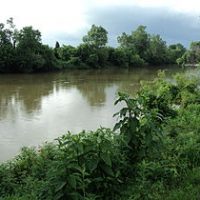 (Pittsylvania County, Va.) – Drones were utilized Tuesday morning as dive teams from the Danville Lifesaving Crew worked to free a man on the banks of the Dan River.
Rescue teams responded to Oak Ridge Lane just before 11 a.m. after receiving a call that a man was trapped underneath a fallen tree. The victim had been doing some logging works on the river bank when his hand became caught underneath a tree.
The man was on the shore and not in danger of drowning. Crews were able to free him and he was taken to the emergency room for treatment.
Police, fire and rescue workers responded and employed the help of drones for the first time.