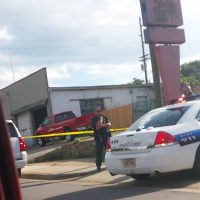 (Danville, Va.) — Danville Police and Crime Scene units responded to an apparent shooting at South Main and Hughes Street Tuesday afternoon.
Multiple shots were fired and broken glass, yellow police markers and crime scene tape were visible in the parking lot of the body shop next to Ma Hollins Convenience Market. Seven shots were fired. Reports indicate one person was struck in the arm.
Investigators were still at the scene at the time of this posting and details were not available.