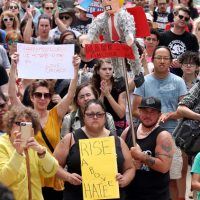 (Danville, Va.) — A day after a white supremacist rally spiraled into deadly violence in Virginia, protesters converged in front of Trump Tower in New York and elsewhere around the country to decry hatred and racism.
Activists held gatherings that ranged from a march in Manhattan to a candlelight vigil in Florida to a rally in a public square in Cleveland. In West Virginia, residents are planning to go to a Confederate statue on the state Capitol grounds and call for its removal. In Danville, more than 50 people gathered at the JTI Fountain on Main Street and lit candles in a show of solidarity for the victims in Charlottesville.
In South Carolina, dozens of people gathered at an afternoon rally. Organizer Todd May, a Clemson University professor, says the gathering aimed to show support for people targeted by white supremacist rhetoric.