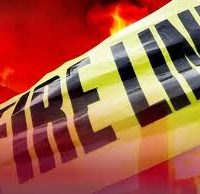 (Danville, Va.) – A house fire in Danville started in some unattended cooking left on the kitchen stove.
Danville firefighters responded to 301 Cathy Drive around 2:22 Sunday afternoon and found light smoke coming out of the side door of the house. Once inside, crews found a fire on the stove extending up into the kitchen cabinets.
They used a fire extinguisher to put the fire out and the flames were under control in minutes.
No one was inside the house at the time and there were no injuries. Moderate fire damage was noted in the kitchen with smoke damage throughout the two-story home.
16 firefighters were on the scene for about an hour.