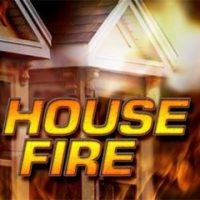 (Danville, Va.) – Danville firefighters contained a small fire at 619 Ferry Road late Friday morning.
Crews arrived at 11:05 am and found light smoke coming from the front windows of the small, single-story house. Firefighters knocked down the flames and then conducted a search to make certain no one was inside.
The fire was under control in fifteen minutes and a fan was set up to ventilate the building. The bedroom sustained moderate fire damage, while heat and smoke damage were noted throughout the rest of the house.
Nineteen firefighters were on the scene for just over two hours.
The fire marshal is investigating. At this point, the cause is undetermined.