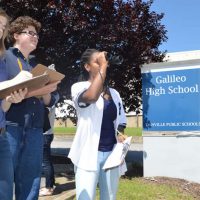 (Danville, Va.) — A new school year begins in Danville today as students head back to class from summer vacation.
Teachers and administrators have been preparing for the start of the new school year and students and families attended open houses in Danville last week.
Motorists are advised to slow down in school zones and to look for children crossing the street, and to stop for the yellow school buses when they see the flashing lights.
The first break of the new school year won't take long, with a Monday, Sept. 4th holiday for Labor Day.