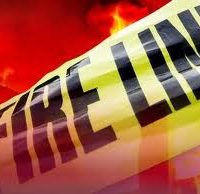 (Danville, Va.) — Danville firefighters kept a small blaze from spreading to a house on Brightwell Drive Tuesday night.
Crews responded to 447 Brightwell at 9:15 and found light smoke coming from the rear of a single-story home. A small pile of debris was smoldering in an outside storage closet but had been extinguished by the homeowner before the fire department arrived. Firefighters doused the hot spots and determined the flames had not spread to the interior of the home.
Firefighters were on the scene for a half-hour and there were no injuries.