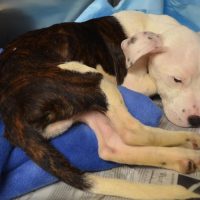 (Martinsville, Va.) – The Martinsville/Henry County SPCA is offering a reward for information in a puppy abandonment case after two dogs were rescued from a local landfill.
The puppies were found Saturday and brought to the animal shelter. SPCA officials said the puppies were emaciated and malnourished to the point of not being able to stand.
The man tried to offer them food, but the puppies were unable to open their mouths. He is a student at a local veterinary school and says he is considering adopting the two dogs when they get stronger.