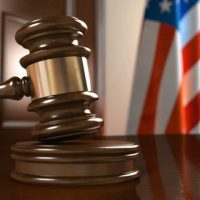 (Caswell County, N.C.) — A mental health evaluation has been ordered for Milton man charged with injuring a woman while wrecking a stolen car and then striking a police officer while attempting to flee.
53-year-old Kenneth Karl Brandon Jr. is already serving a prison sentence for an assault and car theft that happened in Caswell County on the same day.
He entered guilty pleas to misdemeanor hit-and-run and assault on a government official. Brandon was also charged with possession of a stolen car in connection with the Aug. 20, 2014 incident.
Police say he crashed a stolen 2004 Dodge Dakota on N.C. 49 in Haw River. A female passenger was injured and he struck the police officer who investigated the accident.
Brandon was given a 150-day sentence, which he has already served. He is currently jailed for a 2015 conviction of assault with a deadly weapon and larceny of a motor vehicle. Brandon is scheduled for release in December.