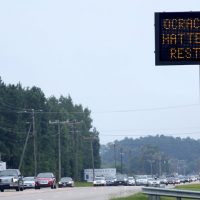 (Cape Hatteras, N.C.) — The Cape Hatteras Electric Cooperative said Sunday that power restoration to Hatteras Island and Ocracoke Island could take one to two weeks as it considers two options to get electricity back to customers.
The co-op says all cables transmitting power to the islands were cut when a contractor accidentally drove a steel casing through the underground cables on July 27.
PCL Construction, CHEC, and New River Construction, the cooperative's transmission contractor, excavated the site of the damaged cables that are part of CHEC's transmission system under the south side of the Bonner Bridge.
Crews exposed one of the cables and saw that it was completely severed. The cooperative ran tests Saturday to check the integrity of the other two cables and found issues with them.