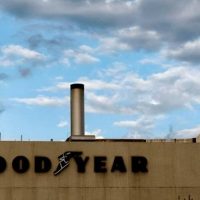 (Cincinnati, Ohio) — Goodyear and the United Steelworkers union on Saturday reached a tentative five-year contract that covers about 7,000 hourly workers in the United States at five plants, including its factory in Danville, Va.
Goodyear Tire & Rubber Co. sent out a news release late Saturday night announcing the agreement, which still has to be ratified by union workers. The previous contract was due to expire at midnight Saturday.
Goodyear is Danville's largest employer, with about 2,200 workers. All but about 200 are represented by the union.
Besides Danville, the tentative agreement covers Steelworkers at Goodyear factories in Akron, Ohio; Fayetteville, N.C.; Gadsden, Ala.; and Topeka, Kan.
Goodyear said it expects union locals will schedule ratification votes within the next few weeks.
Negotiations began June 13th and were held in Cincinnati, Ohio.