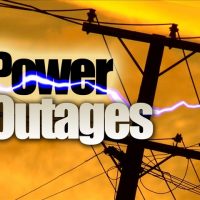 (South Boston, Va.) — About 1,800 Dominion Power customers were without power Sunday afternoon, when a large tree fell at the corner of North Main Street in South Boston, taking several utility poles with it.
Dominion Power reported 1,772 customers lost power as a result of the downed tree, with was located in the yard of a home at 1201 North Main Street.
The tree fell about 2:30 Sunday afternoon, just missing two homes. There were no injuries.