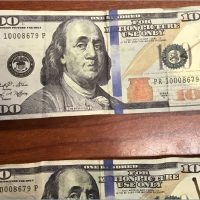 (Danville, Va.) — Danville Police report multiple counterfeit $100 bills received by several local businesses.
The counterfeit currency has "FOR MOTION PICTURE USE ONLY" stamped beside the altered portrait of Benjamin Franklin. In the banner under the portrait, it reads "'FOR MOTION PICTURE." The bills have SERIES 2013 P and serial numbers PR10008679P. The texture of the bills is correct.
Although clearly marked for motion picture use, the bogus bills appear authentic to the casual observer.
The same serial numbers have been found on counterfeit $20 bills.