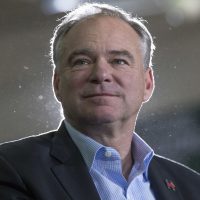 (Washington, D.C.) — President Donald Trump says "we will soon see whether or not Republicans are willing to step up to the plate!" on health care. Trump has been pressuring Senate Republicans to vote on a health care bill "after 7 years of talking." Trump says on Twitter Tuesday morning that Obamacare is "torturing" Americans. He says "I have pen in hand" to sign a bill and is urging a vote either to repeal, or to repeal and replace the Obama law.
Virginia Democratic Sen. Tim Kaine tells this newsroom he doesn't think Republicans have the support in their own party to move the bill forward.
And if the legislation advances, Kaine predicts the results will be disastrous, whether 20 million or 32 million Americans lose their coverage. Kaine says the problem with the current bill is that "we don't yet know what version they're putting up for vote."
Sen. Kaine says if Democrats cannot stop the motion to proceed, "we're certainly going to do everything to try and convince our colleagues not to vote for it to pass."
He added that the bill should be sent to the proper Senate committees and not hammered out in secret behind closed doors.