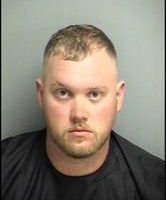 (Campbell County, Va.) — A former Campbell County correctional officer is charged with delivering drugs to prisoners.
25-year-old Benjamin Joel Rackley faces one count of conspiracy to deliver drugs to prisoners, one count of delivery of drugs to prisoners, and two counts distribution of a controlled substance.
The investigation began in February, when police received information that Rackley was delivering prescription medications to inmates at the facility. Authorities say the drugs were delivered between Aug. 1, 2016 and Feb. 1, 2017.
The arrest came as a result of a joint investigation conducted by the Campbell County Sheriff's Office and the Blue Ridge Regional Jail Authority.
Investigators say they expect to charge others in the investigation.