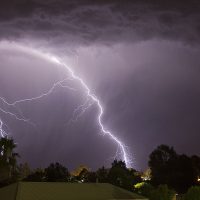 (Danville, Va.) – A series of powerful thunderstorms left thousands of Danville Utilities customers in the dark Tuesday night.
As of 10:30, more than 3,500 customers were without power. The first major outage affected customers in the Ringgold and Kentuck areas, where 1,805 customers lost power at 9:05 p.m. when a feeder locked out at the Rocksprings substation. Line crews determined the cause of the lockout and worked to restore service.
The second major outage affected portions of downtown, the Old West End neighborhood, Ridge Street and Memorial Drive, where 1,100 customers were affected. These customers lost power at 6:35 p.m. when a pole was damaged near God's Storehouse, causing a power line to fall across Memorial Drive.
The remaining outages are scattered throughout the city and the surrounding area. These outages are all storm-related. Line crews worked through the night, but some customers may be without service until Wednesday morning.