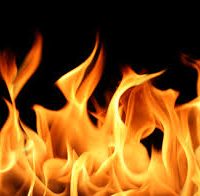 (Ringgold, Va.) – It took two dozen firefighters about three hours to contain a fire at the First Piedmont Landfill off the Clarks Mill Road in Ringgold.
Fire Chief Mike Neal says they responded about 5 a.m. Tuesday and found flames shooting 25-feet into the air. Crews contained the fire and prevented the flames from spreading to some equipment at the site.
Units from Ringgold, Blairs, Laurel Grove and the city of Danville responded. Nine trucks and 23 firefighters were on scene until 8:00 Tuesday morning. 27,000 gallons of water were pumped on the flames. Landfill operators are using backhoes and bulldozers to cover the smoldering debris.
The cause of the fire is undetermined.