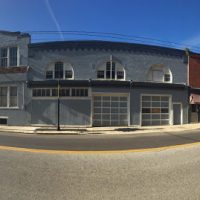 (Danville, Va.) — Rick Barker Properties has announced three tenants that will locate to the 500 block of Craghead Street.
As renovations to the Charles E. Hughes and William C. Venable buildings near completion, two new businesses will be moving in.
Rick Barker will be partnering with Stephan Parry, managing partner of the Parry Restaurant Group, to open a taco tequila bar concept in Suite 100 of the Hughes building. Parry has over 35 years of restaurant experience and has opened 13 restaurants throughout Virginia, including two taco tequila bars in Roanoke and Lynchburg. The restaurant will open during the fall of 2017.
Local entrepreneur, Steve DelGiorno, will be opening Craghead Market in Suite 102 of the Hughes building. This grocery concept will focus on providing healthy food options that are organic, minimally processed and raised without hormones or antibiotics. Craghead Market will offer freshly baked goods, fresh flowers, staple grocery items, along with fresh produce and meats.The market will also offer delivery services to addresses located within the River District.
Five commercial spaces and seven luxury apartments will also be available for lease this fall. Commercial units range in size from 800 to 2,600 square feet.