Rainy day blues? Here are 20 indoor activities that are fun and help keep your kids occupied.
1. Paper plate fish from MADE. I don't always love paper crafts for kids because they spend 15 minutes making it, and then it just clutters up my house. But the creative possibilities here are sure to keep them busy for some time.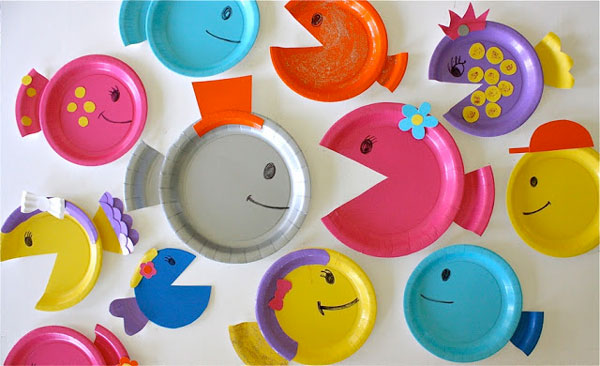 2. DIY lazer maze from Brassy Apple. Can you say genius? Give the kids a roll of crepe paper and some masking tape and let them go crazy designing mazes and working their way through them.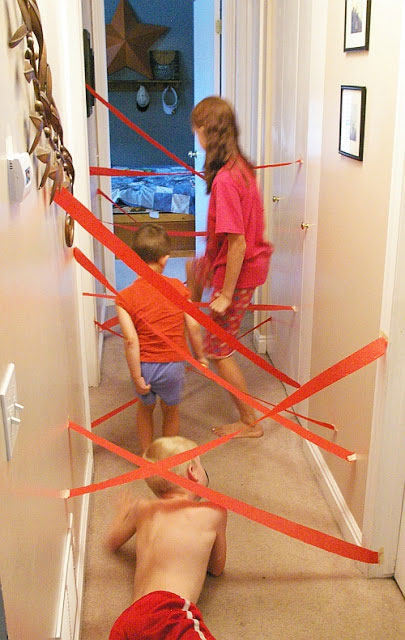 3. Sewing cards from Dandee. I've gone through at least three different sets of lacing cards with my kids – we use them mainly at church – but for some reason I never thought of making my own. Kids could design their own shapes, get your help for the cutting and hole punching, and then go to town lacing them up.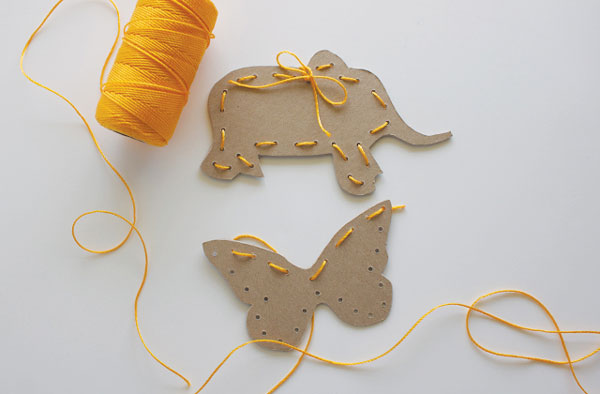 4. Slotted building discs by Made By Joe. This is another DIY of a product we've purchased before – download the free printables, cut from construction paper or card stock, and let the kids go to town. The blogger mentions how perfect these would be to take along when you go out to dinner. BTW – this blog is unbelievably awesome – you must go check it out.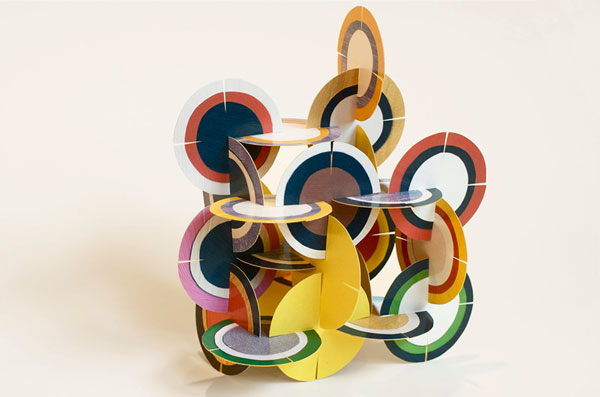 5. Cardboard marble maze from Therapy Fun Zone. What a great idea! My big kids could do this with no help at all, then battle to see who can get the marble through the maze the fastest.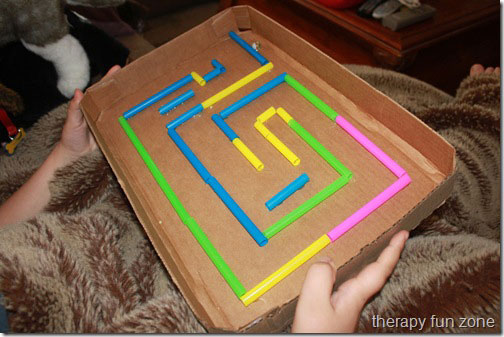 6. CD case labyrinth by Giddy Giddy. Similar idea, different materials, with the added bonus that everything is closed inside the case.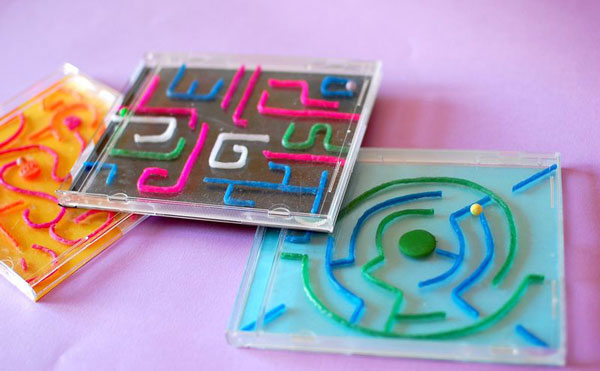 7. Pretzel log cabin from Spoonful. Ok, so this will take some parental involvement, but it was too cute to pass up. This adorable log cabin is built around a small milk carton.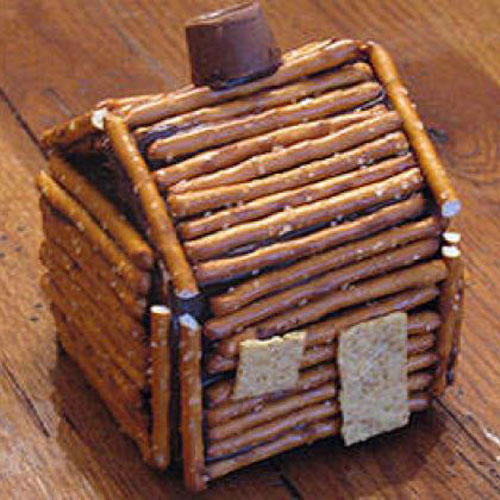 8. Marshmallow catapults from It's Always Autumn. These are SO easy to put together and SO much fun to play with – even I had a good time seeing if I could fling a marshmallow into a target taped on our table.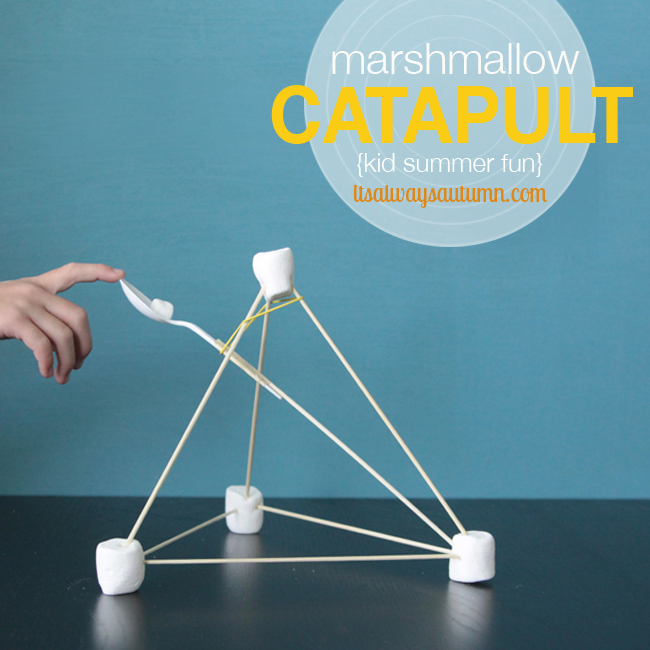 9. Marble run from Powerful Mothering. My kids have always loved marble runs, so it's great to find a DIY version that even they could create.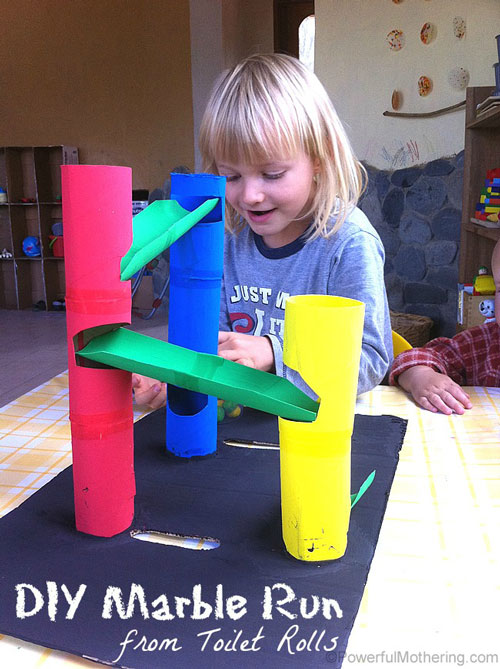 10. Origami roundup by Simply Modern Mom. Oragami is a great way to keep little hands busy. Many of the instructions linked to here are simple enough for older children to follow on their own and even teach to younger siblings.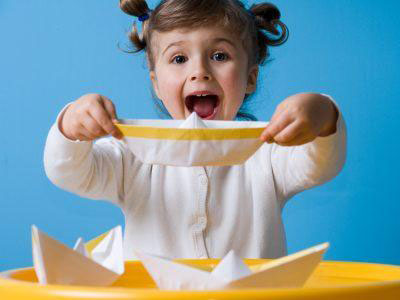 11. Walking stilts by Make it and Love it. Another perfectly genius idea! Throw together a couples pairs of stilts using dollar store supplies and wait for the giggle to begin as the kids practice walking with them.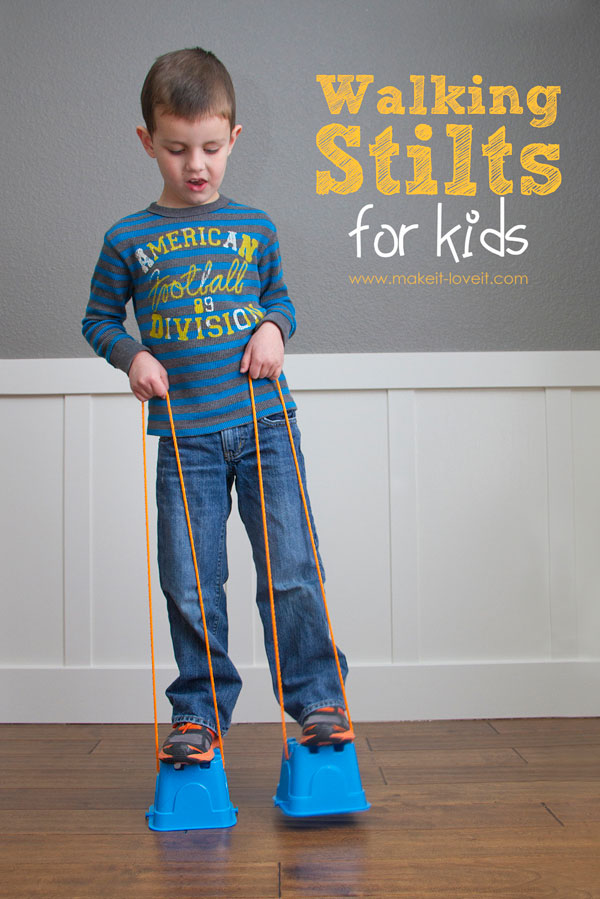 12. Flashlight games from Kids Activities Blog. I remember playing these games when my boys were little and I was too worn out to figure out anything the least bit complicated.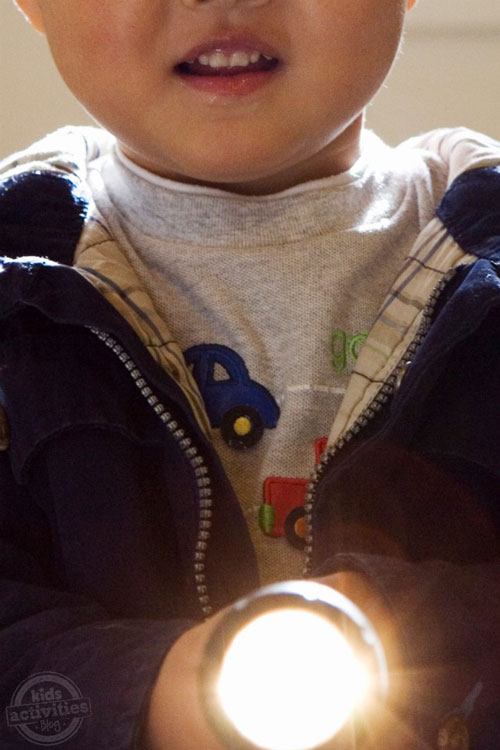 13. Illustrated cookie recipe from It's Always Autumn. One thing I've always loved doing with my little kids is baking. Who knows how many hundreds of cookies we've made out of winter boredom!

This printable allows pre-readers to follow along with the classic chocolate chip cookie recipe, and makes it easy for older kids to keep track of everything while they're making cookies all by themselves.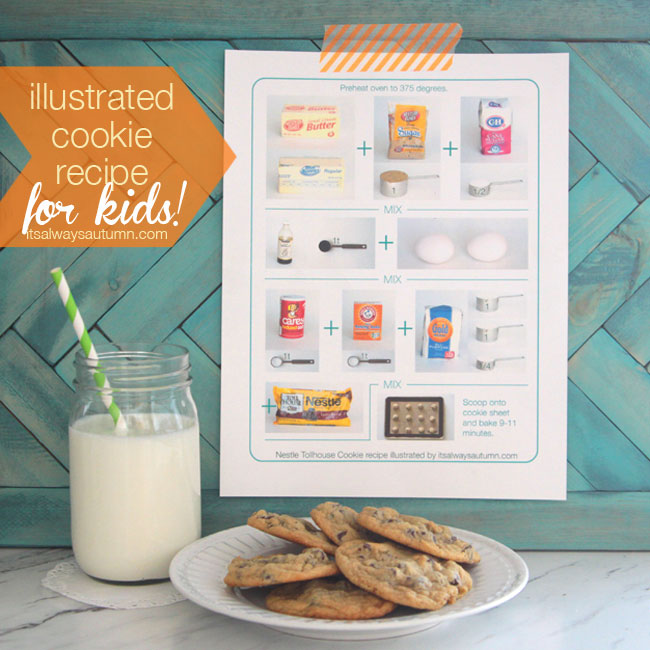 14. Toy slot box by Made by Joel. Here's one that's perfect for your younger kids: a shoebox with slots cut in the top for dropping in "coins." Make this easy using purchased poker chips, or spend a little more time and cut your own "coins" in different sizes for different sized slots. NOTE: this is intended for a baby, but I've found that kids up to 5 LOVE this type of simple activity.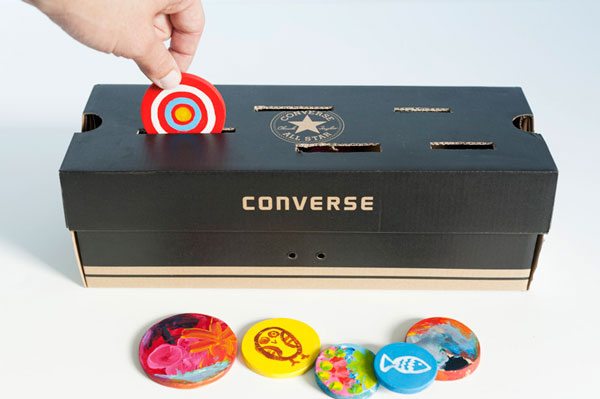 15. 5 "snow" activities by Delia Creates. Some of these projects will take more parental involvement than others, but they're all simple and should appeal to a variety of ages.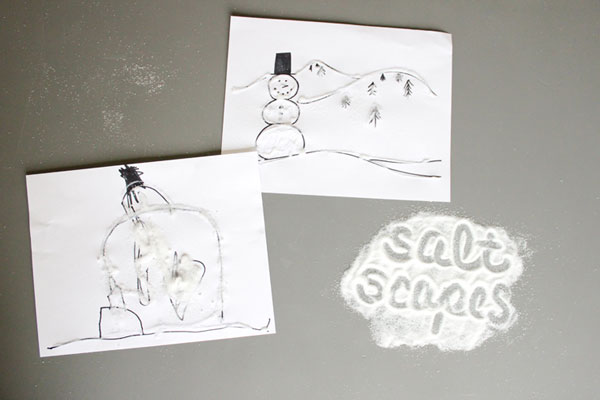 16. Painted t-shirts from Crazy Little Projects. We've decorated t-shirts before, but this is a much better idea – let kids paint on paper, then turn it over and iron the design onto a t-shirt (get them at the dollar store for a buck each!). The best part is the kids can create a bunch of paintings, then choose their favorite to put on a shirt.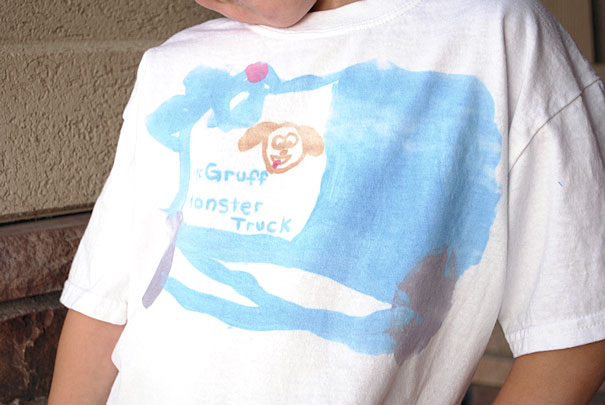 17. Finger knitting from Little Bird. Friendship bracelets and rainbow loom bracelets are crazy popular right now – but for a simpler version try finger knitting with this easy to follow tutorial.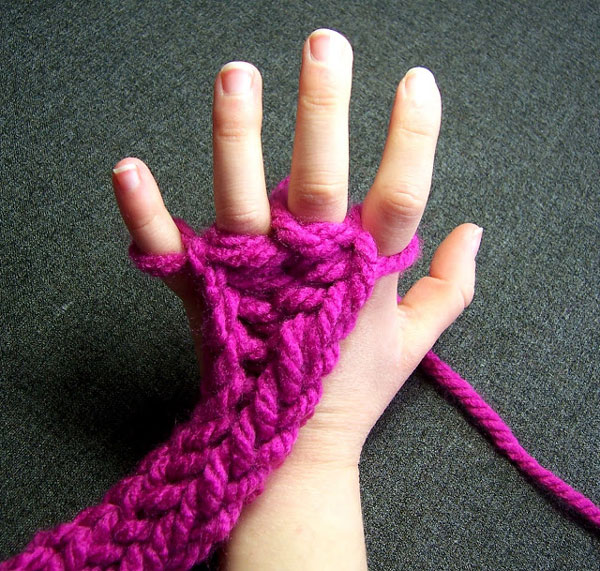 18. Kool-Aid play dough from The 36th Avenue. This looks so much simpler than the homemade play dough I've made in the past, and you can't beat the bright colors and fun smells you'll get using Kool-Aid!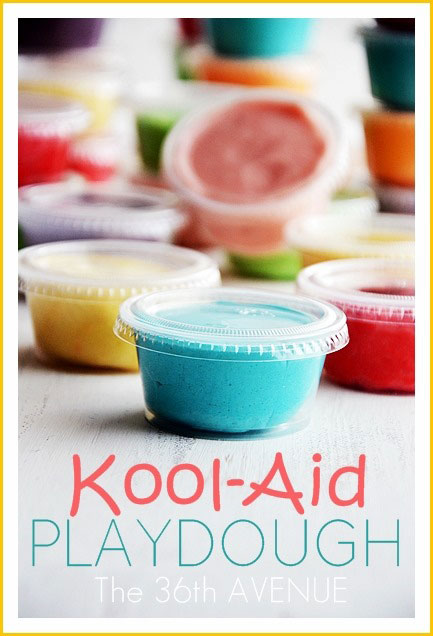 19. Perler bead awesomeness from eighteen25. Perler beads a great rainy day activity, but these gals have made them so much cooler! Find awesome jewelry and links to other great patterns in this post.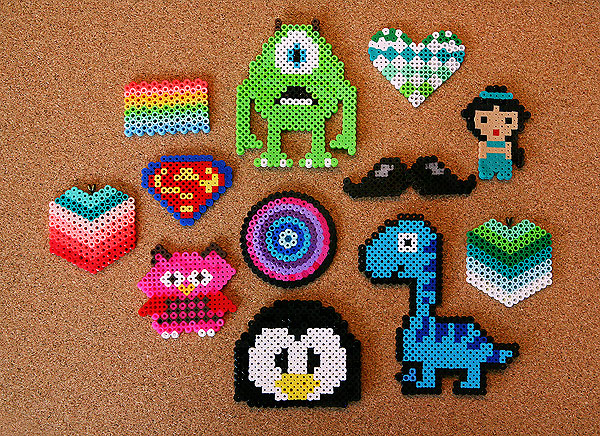 20. Balloon ping pong from Keeping it Simple. So easy but completely genius. People are brilliant, right?