We've teamed up with Danville Salvation Army for Christmas Bucks for Kids.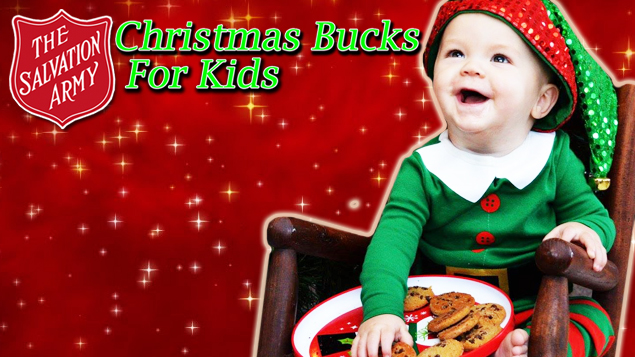 The goal remains the same – $100,000 to help out needy children and families in our area.  Not only does this make sure everyone receives something special to open at Christmas, but these funds are used to provide a holiday meal, utility assistance and more!
Join us as we support with campaign with LIVE broadcasts with donation raffle items as well as some FUNdraising events!
Goal: $100,000
• Helping: 271 Families – 1354 total people
659 of those people are children

Angel Tree Location: Walmart
o Donors can also call the Salvation Army office to adopt angels. That number is 434.792.3963.
Volunteer Bell Ringers can help the campaign just as much as monetary donations!
To sign up: www.redkettlevolunteer.org/SouthernTerritory or call Captain Jackson directly at 434.792.3963.
The need for volunteer bell ringers is high and can help boost revenue for the campaign. Even an hour or two can make a difference!
Christmas Bucks for Kids Schedule:
Friday, November 8th
Kick Off – Riverside Drive Hardee's
Time: 7am – 10am
Everyone who donates $5 or more receives voucher for a free biscuit or cheeseburger
PLUS, first 10 people to donate $100 or more, receive burgers from Hardee's for a year (52 burgers – one per week)
You can also stop by to donate to register to win one of our great donation raffle items (see list below).
Saturday, November 9th
Danville Walmart, Mt. Cross Road
Time: All DAY
Toy Drive – drop off new toys for the campaign at the front of the store.
For those unable to participate in-store on November 9, The Salvation Army has provided a searchable online registry comprising all the items needed; each item requires just one click to purchase. https://www.walmart.com/lists/view-events-registry-items?id=1559095f-6cd1-4e12-809d-8586ad4303f3
Friday, November 15th
VIR Holiday Laps – at VIRginia International Raceway
Time: 8am – 4pm
Donate $25 in cash or worth of new, unopened toys to the campaign for a chance to drive your vehicle on this historic racetrack!
Friday, December 13th
Grand Finale Broadcast at Subway in Danville Walmart
Time: 3pm – 7pm
Last chance to donate $5 to enter for one of our many raffle items.
Christmas Bucks for Kids $5 Donation Raffle Items:
All Donations are Tax Deductible!
Please Make Checks Payable to: Danville, VA Salvation Army
The Salvation Army Tax ID # is 59-0660607
• Myrtle Beach Trip for two: 3 nights of accommodations at Sands Ocean Club Resort and admission for two to Family Kingdom Amusement park, Family Kingdom Water Park, Ripley's Believe It or Not Museum, Ripley Aquarium, Ripley's 4D Moving Theater and Ripley's Haunted Adventure
• Pair of tickets for every regular season 2020 South Boston Speedway Race
• Catered Super Bowl Party from Blue Line Catering – feeding up to 20 people. BBQ, Beans, Slaw, Mac & Cheese – delivered to winner's location of choice ($200 Value)
• Gift Card Christmas Tree – featuring: Western Sizzlin' – $25, Chasity's Cafe – $20, Me's Burgers – $25, Mucho Taqueria – $25, O'Kelly's – $25, Visa Gift Card – $100 and Sam's Club – $100