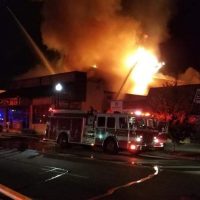 MARTINSVILLE, Va. – Fire destroyed the historic Rives Theatre in Uptown Martinsville Sunday night.
Flames were shooting through the roof when the first crews arrived around 8:30 p.m. Sunday night.
Three firefighters went inside for an interior attack, but were quickly pulled out due to fears that the roof might collapse.
Two ladder trucks were on scene working to put out the flames and firefighters doused hot spots throughout the night.
A group of people had been watching a football game earlier in the evening but no one was inside at the time and there were no injuries.
The fire chief says it appears the fire had been burning for about an hour before it was discovered.
The cause is still under investigation, but foul play is not suspected.
It's believed the 91-year old theatre was a total loss.