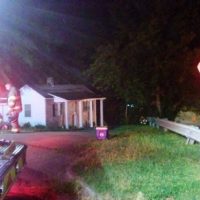 DANVILLE, Va. – Danville firefighters responded to a house fire at the end of a dead end street early Wednesday.
Units were called to 920 Roberts Street shortly before 2:30 a.m. and found smoke and fire in the basement of the brick home.
The fire was located in a basement breaker box, knocked down quickly and under control at 2:41 am. The basement sustained minor fire and water damage. Smoke damage was reported throughout the two-story home.
The occupants got out safely and there were no injuries.
The fire marshal determined that the fire was electrical in nature. (Photo: Ken Warrick)