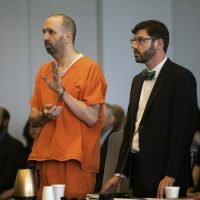 (DURHAM, N.C.) (AP) — An attorney who has worked with the families of three Muslim students gunned down in February 2015 says federal authorities decided they did not have a strong enough case to pursue hate-crime charges against their killer.
Joe Cheshire is a defense attorney in North Carolina who has been working with the victims' families and guiding them through the legal process over the past four years.
He said at a news conference Wednesday that federal authorities could not satisfy themselves that 50-year-old Craig Hicks' actions met all the required conditions of bringing a successful hate crime prosecution. He says they couldn't discount Hicks' initial explanation that the violence was provoked by a dispute over parking spaces.
Hicks pleaded guilty Wednesday to three counts of first-degree murder in the slayings of 23-year-old Deah Barakat; his wife, Yusor Abu-Salha, 21; and Abu-Salha's 19-year-old sister Razan Abu-Salha. He was sentenced to three consecutive life terms in prison without parole.
Cheshire says federal authorities' decision not to pursue hate-crimes charges "hurt a lot of feelings and it added to the false narrative."
He says the federal government "failed this family and our multicultural democracy."