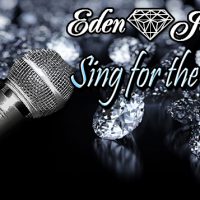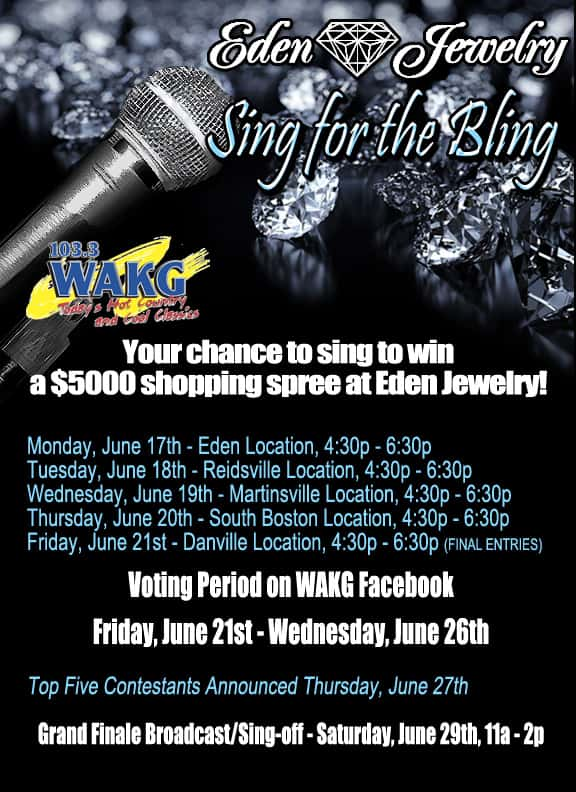 Remote/Audition Week: 4:30p – 6:30p Each Day
• Monday, June 17th – Eden Location
• Tuesday, June 18th – Reidsville Location
• Wednesday, June 19th – Martinsville Location
• Thursday, June 20th – South Boston Location
• Friday, June 21st – Danville Location
Voting Period:
• Saturday, June 22nd – Wednesday, June 26th – Vote for your favorite video on the WAKG Facebook Fan Page
• Thursday, June 27th – Top FIVE Contestants Announced
• Saturday, June 29th – Top FIVE Contestants Perform LIVE at Eden Jewelry in Danville during a Grand Finale Broadcast, 11a – 2p
Listeners stop by and vote for their favorite. Just before 2, we'll determine our winner and he/she will receive a $5000 Shopping Spree from Eden Jewelry!
Sing for the Bling 2019 Official Contest Rules:
1. Must be 16 or older to enter
2. Must audition during one of our five broadcasts at the specified Eden Jewelry locations – Monday, June 17th – Eden Location, Tuesday, June 18th – Reidsville Location, Wednesday, June 19th – Martinsville Location, Thursday, June 20th – South Boston Location, Friday, June 21st – Danville Location
3. Previous winners of Eden Jewelry's Sing for the Ring/Sing for the Bling are not eligible to reenter
4. One entry/audition per person
5. Songs entries must be no longer than 40 seconds.
6. Auditions become property of WAKG/Piedmont Broadcasting Corporation and can be used online, on-air and any other form of media for promotional purposes.
7. Accompaniment is allowed; however, entrant is responsible for providing the instrument or audio source.
8. Employees and immediate family of WAKG/Piedmont Broadcasting Corporation and Eden Jewelry are not eligible to enter or win
9. Top Five Contestants determined by popular vote (aka most likes on Facebook) and announced/contacted Thursday, June 27th.
10. Top Five Contestants will perform at our finale broadcast, Saturday, June 29th, 11a – 2p.
11. If a contestant does not participate in the finale broadcast he/she will forfeit his/her spot in the final contest and not be eligible to win.
12. Winner at the Grand Finale will be determined by audience vote – on location at Eden Jewelry of Danville.
13. Winner will receive a $5000 Eden Jewelry Shopping Spree – good to use at any location.
14. Prize must be taken as offered and cannot be transferred.
15. Prize has no cash value and can only be used at any of the Eden Jewelry locations.
16. Facebook is not affiliated with WAKG, Eden Jewelry or this contest.
17. WAKG and Eden Jewelry are not responsible for entries not received/not uploaded due to technical error.
18. WAKG reserves the right to change this contest and/or its rules if deemed necessary.