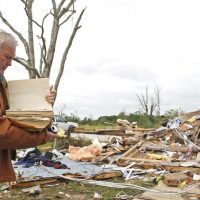 Powerful storms swept across the South on Sunday after unleashing suspected tornadoes and flooding that killed at least eight people, injured dozens and flattened much of a Texas town. Three children were among the dead.
Nearly 90,000 customers were without electricity in Texas, Mississippi, Louisiana, Arkansas, and Georgia as of midday Sunday.
Two children were killed on a back road in East Texas when a pine tree fell onto the car in which they were riding in a severe thunderstorm Saturday near Pollok, about 150 miles southeast of Dallas.
The tree "flattened the car like a pancake," said Capt. Alton Lenderman of the Angelina County Sheriff's Office. The children, ages 8 and 3, were dead at the scene, while both parents, who were in the front seat, escaped injury, he said.
At least one person was killed and about two dozen others were injured after a suspected tornado struck the Caddo Mounds State Historic Site in East Texas during a Native American cultural event in Alto, about 130 miles southeast of Dallas. Cherokee County Judge Chris Davis said the fatality that was reported was of a woman who died of her critical injuries.
In neighboring Houston County, the sheriff's office said one person was killed in Weches, 6 miles southwest of Caddo Mound.
There was widespread damage in Alto, a town of about 1,200, and the school district canceled classes until its buildings can be deemed safe.
A tornado flattened much of the south side of Franklin, Texas, overturning mobile homes and damaging other residences, said Robertson County Sheriff Gerald Yezak. Franklin is about 125 miles (200 kilometers) south of Dallas.
The weather service said preliminary information showed an EF-3 tornado touched down with winds of 140 mph.