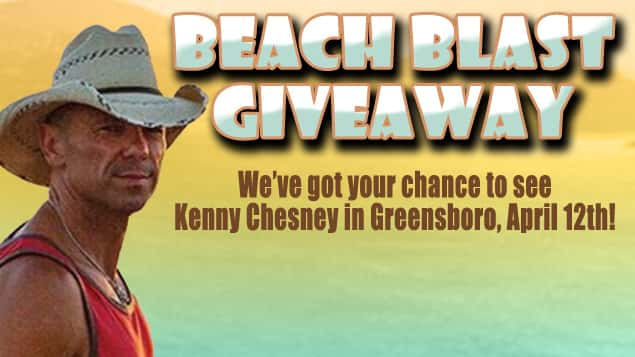 You and a friend….lower level….of Kenny's Chesney's Greensboro Coliseum concert, Friday, April 12th…and we can make it happen!
Be sure to stop by one of our official Beach Ball Spots and write your name and phone number on a WAKG Beach Ball for your chance to win a pair of tickets for the show!
Official Beach Ball Spots:
Aqua Pros Pools & Spas, 20451 Timberlake Road, Lynchburg, Va and 1173 Moneta Road, Bedford, Va
Great Clips, Coleman Marketplace in Danville and South Van Buren Road in Eden
Interstate All Battery Center, 418 Trade Street, Danville  (Shopping Center Behind Danville Sheetz)
Supply Line Discounts, HWY 58 at 360 South Boston
Triangle Cycles, 2104 Riverside Drive, Danville, VA
Official Contest Dates:
Beach Ball Registration: Wednesday, March 13th – Friday, March 29th, 2019
Grand Prize Drawing: Wednesday, April 3rd at 7:10am on WAKG
Official Contest Rules:
1.) One beach ball per person per day
2.) Beach ball entries can be made during official contest dates – Wednesday, March 13th – Friday, March 29th, 2019 at Official Beach Ball Spots
3.) Beach balls must have name and number of contestant written on the back and placed in the WAKG registration box
4.) Winners will be drawn and announced Wednesday, April 3rd at 7:10am
5.) No age limit to win
6.) Winners will be determined by random drawing
7.) One win per household (Example: If Mom wins a pair of tickets, Dad, child or immediate family member are no longer eligible to win)
8.) Judges' decision final
9.) Prize must be taken as offered
10.) Immediate family of employees of contest sponsors and WAKG are not eligible to enter.
11.) WAKG reserves the right to change this contest and/or its rules if deemed necessary.