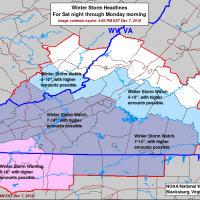 (Southside) – A winter storm could drop up to a foot of snow across parts of Virginia this weekend, including the Danville area.
The National Weather Service says much of Southside Virginia, including Danville, will get 8 to 12 inches of snow. The heaviest snowfall is still expected throughout the day Sunday and into Sunday night.
Blacksburg meteorologist Jim Hudgins says the heaviest accumulations are expected in Danville and points south, with 6 to 10 inches falling north towards Lynchburg. Snow totals in the mountains in Southwest Virginia will range from 8 to 20 inches.
Little freezing rain is associated with this system but Hudgins says any sleet that falls will reduce snowfall totals, especially in the South Boston area.
The system isn't expected to move out of the region until Monday, with temperatures back up to the 40s on Tuesday and Wednesday.
Temperatures will remain well below freezing at night and Hudgins cautions that traveling will be "treacherous."