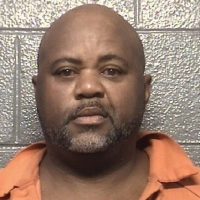 (Danville, Va.) – Danville Police have charged 52-year-old Onis Donnell Moon with two counts of first-degree murder in connection with Wednesday night's double homicide.
Police have identified the victims as 87-year-old Valean Ferrell Barley and 83-year-old Royal Douglas Barley. Both were stabbed to death. Police say the Barleys' daughter was also severely injured, but is recovering in a hospital.
Moon is being held in the Danville City Jail under no bond. He was arrested without incident after police found him walking near the murder scene Wednesday night. His connection to the family is not known.
Investigators were called to a home in the 100 block of Lexington Avenue about 10 p.m. Wednesday. On arrival, they found Royal and Valean Barley dead and their daughter seriously injured.
Moon is scheduled to have a preliminary hearing Jan. 10.