We've teamed up with Danville Salvation Army for Christmas Bucks for Kids.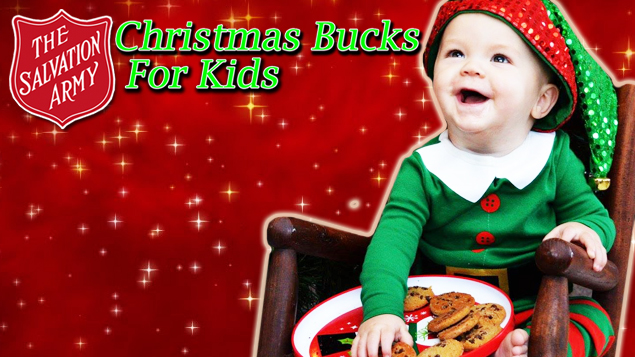 The goal remains the same – $100,000 to help out needy children and families in our area.  Not only does this make sure everyone receives something special to open at Christmas, but these funds are used to provide a holiday meal, utility assistance and more!
Join us as we support with campaign with LIVE broadcasts with donation raffle items as well as some FUNdraising events!
Goal: $100,000
• Helping: 245 Families
 Includes: 74 Seniors, 471 Angels (Kids Only)
 Provides: 108 Food Only Cases
• Angel Tree Location: Walmart
o Donors can also call the Salvation Army office to adopt angels. That number is 434.792.3963.
Volunteer Bell Ringers can help the campaign just as much as monetary donations!
To sign up: www.redkettlevolunteer.org/SouthernTerritory or call Captain Jackson directly at 434.792.3963.
The need for volunteer bell ringers is high and can help boost revenue for the campaign. Even an hour or two can make a difference!
Christmas Bucks for Kids Schedule:
Friday, November 9th
Kick Off – Riverside Drive Hardee's
Time: 8am – 12pm
Everyone who donates $5 or more receives voucher for a free biscuit or cheeseburger
PLUS, first 10 people to donate $100 or more, receive burgers from Hardee's for a year (52 burgers – one per week)
You can also stop by to donate to register to win one of our great donation raffle items (see list below).
Friday, November 16th
Leggett Town and Country
Time: 3pm – 7pm
Stop by to donate to register to win one of our great donation raffle items (see list below).
Friday, November 30th
VIR Holiday Laps – at VIRginia International Raceway
Time: 8am – 4pm
Donate $25 in cash or worth of new, unopened toys to the campaign for a chance to drive your vehicle on this historic racetrack!
Dining and Donating (Spirit Day) – Wednesday, December 12th
Local recreational businesses and restaurants participate in a day where if you purchase services/food there, 10% goes to Christmas Bucks for Kids.


Participating Locations Include:
•The 616 – farm to table restaurant at 616 North Main Street in Danville – serving up fresh entrees like shrimp and grits, pimento cheese burger and buttermilk fried chicken. Like them on Facebook for the Butcher Block of the Day and limited specials.
•Ballad Brewing – Enjoy the relaxing atmosphere Ballad has to offer. Serving up a variety of craft beers made on site. Featuring food trucks and live events throughout the week. Like them on facebook for more info!
•Chatham Public House- located at 33 North Main Street in Chatham, Chatham Public House serves up gourmet burgers, authentic New York style sandwiches and salads as well as modern takes on southern classics…like their "Not Your Mama's Meatloaf."
•Crema & Vine – The pride of the "Old West End" of Danville, Crema & Vine offers a variety of espresso and coffee beverages as well as their unique self-service wine bar. Be sure to check out their breakfast and lunch/dinner menu for a delicious bagel and lox or a New Orleans Muffuletta sandwich.
•Golden Leaf Bistro – American traditional favorites, seafood and steaks. Be sure to check out their official Facebook Fan Page for daily specials!
•Nana Karen's Food Truck- wraps, salads and southern favorites like chicken and waffles. Check out Nana Karen's Food Truck Facebook page for pop-up lunch locations and more!
•Nikki's Family Restaurant – homemade southern comfort food. Enjoy handpattied burgers, fresh vegetable sides and a variety of meat and vegetable plates. Be sure to check out their breakfast buffet available everyday from 6 – 2 – featuring pancakes, eggs, sausage, bacon and more for just $9.99.
•O Kelly's – Danville and Brosville Locations – chicken salad, pimento cheese, ham and cheese, turkey and cheese and roast beef sandwiches as well as fresh fruit, pasta salads…and don't forget their handmade pastries – including Danishes and cinnamon rolls!
•Something Special Restaurant and Lounge – 401 South Ridge Street – serving up delicious lunch and dinner options –like ribs, catfish, chicken. Like their Facebook fan page for details on upcoming events – including comedy shows and live bands!
• Chasity's Café – Ringgold in the former Corner Café – featuring hand-pattied burgers, chicken livers, ribeye steaks, fresh vegetables and homemade pies and cakes. Check the official Facebook fan page for daily specials.
• Firehouse Subs – Mall Drive, hot and cold subs, salads, catering options
• Me's Burgers & Brews – 215 Main Street, where a great burger tells a story…including their Fannie Flagg – featuring bacon, fried green tomato and pimento cheese. Visit their website for complete menu options at mesburgers.com
• La Nostra Cucina – in the former Rax Restaurant on Riverside Drive – serving up authentic Italian pasta dishes as well as pizzas featuring the freshest ingredients.
Grand Finale Day – Friday, December 15th
Subway inside of Danville's Walmart
Time: 3pm – 7pm
Final chance to donate to win our great donation prizes!
Christmas Bucks for Kids $5 Donation Raffle Items:
All Donations are Tax Deductible!
Please Make Checks Payable to: Danville, VA Salvation Army
The Salvation Army Tax ID # is 59-0660607
• Myrtle Beach Trip for two: 3 nights of accommodations at Sands Ocean Club Resort and admission for two to Family Kingdom Amusement park, Family Kingdom Water Park, Ripley's Believe It or Not Museum, Ripley Aquarium, Ripley's 4D Moving Theater and Ripley's Haunted Adventure
• A pair of Sandbar tickets (PIT, UPCLOSE TICKETS) for Kenny Chesney at Greensboro Coliseum, April 12th, 2019
• Pair of tickets for every regular season 2019 South Boston Speedway Race
• Catered Super Bowl Party from Blue Line Catering – feeding up to 20 people. BBQ, Beans, Slaw, Mac & Cheese – delivered to winner's location of choice ($200 Value)
• $500 Gift Card to Thunder Road Harley Davidson
• 2-Hour Cleaning Service from Merry Maids ($300 value). Merry Maids cleans everything – including ovens and fridges! This package is customizable to your needs.
• Gift Card Christmas Tree – featuring: Red Lobster – $40, Outback $40, Kickback Jack's $20, Applebee's $40, Western Sizzlin' – $25, Olive Garden – $40, Ham's – $20 in Free Apps, Visa Gift Card – $50, Sam's Club – $100, Ambrosi Biscotti – $65 (Good for 13 biscotti or variety of truffles)