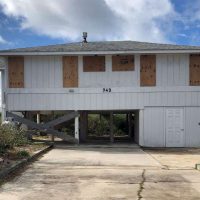 (WILMINGTON, N.C.) (AP) — The National Hurricane Center says Hurricane Florence is expected to bring life-threatening storm surge and rainfall to portions of the Carolinas and mid-Atlantic states.
At 2 a.m., the storm was centered 625 miles (1,005 km) southeast of Cape Fear, North Carolina, moving at 17 mph. Strengthening is forecast through Wednesday. It was a potentially catastrophic Category 4 storm but was expected to keep drawing energy from the warm water and intensify to near Category 5, which means winds of 157 mph or higher.
Forecasters say the center of Florence will move over the southwestern Atlantic Ocean between Bermuda and the Bahamas on Wednesday, and approach the coast of the Carolinas in the hurricane warning area on Thursday and Friday.
The storm is expected to bring high winds and heavy downpours to the Danville area over the weekend. Rainfall totals will vary, depending on the storm's track.