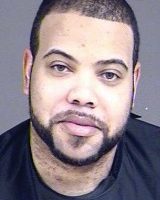 (Halifax County, Va.) — William Maurice Medley will serve 33 years in prison for the murder of his estranged wife.
Medley entered an Alford plea to a first-degree murder charge and to related charges of child abuse and neglect. Three of the couple's four children were in the home at the time of the Dec. 9, 2016 shooting.
The South Boston News and Record reports that Terry was sentenced to life for the murder conviction, with all but 30 years suspended.
Tearron Clayborn was 34 at the time of her death. Medley was a full-time medic with the Mecklenburg County Lifesaving and Rescue Squad in Clarksville.
According to investigators, Medley went to his estranged wife's home on U.S. 58 west of South Boston armed with a handgun and ordered the couple's children inside a back bedroom. A few minutes later the children heard shots. Medley turned himself in to police that night and handed over the murder weapon.